Easter Coloring Pages
A fun collection of easter coloring pages for your children to enjoy.
Easter is one of my favourite times of the year. I really love watching my garden slowly spring to life. Every year, the kids run around the garden looking for hidden easter eggs and occasionally we do a bigger easter egg hunt around the local estate.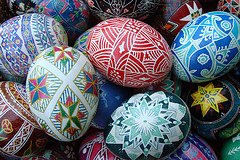 Photo courtesy of Emily Martin
When is Easter? It usually takes place on the Sunday after the first full moon on or after the spring (vernal) equinox. which is March the 21st. This is because the easter dates are fixed by the Lunar Calendar rather the the Solar Gregorian Calendar which we use. This year (2010) the easter dates fall between 2nd April which is Good Friday and 5th April which is Easter Monday.
Take a look below to find some fun easter printables for your kids to enjoy coloring.





Back from Easter Coloring Pages to Printable Coloring Pages
---

Head back to Penny Printables where you can find all sorts of free printables. more