Free Printable Monthly Calendar

A lot of people are looking for a free printable monthly calendar that they can simply print out to write notes and events on. So I thought I would start with a very straighforward and clean free calendar template. The following printable calendar pages are laid out one month to a page. At the moment they are only available as a PDF, but I hope to include different formats soon. If you only want one particular month you can specify the page number when you go to print the PDF.
I plan to add loads of things over the next few months, so why not stop by and see what's new!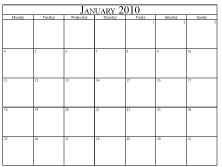 Simple Calendar
Choose from the following list:
2009 Calendars
2010 Calendar
2011 Calendar
---
Printable Greeting Cards
Miscellaneous Printables
Vintage Printables and Craft Ideas
Useful Info
---