Vintage Christmas Decor
Vintage Christmas Decor: ideas for creating your own vintage and victorian christmas decorations and some easy activities you can do with the kids.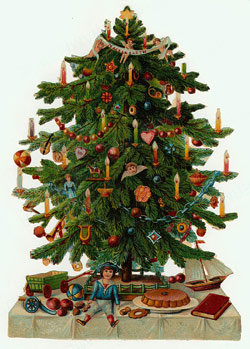 It has been a tradition to decorate homes at Christmas time for many centuries, not always to celebrate Christmas as we see it today but also to celebrate the winter solstice.
So what did the Victorians decorate their house with at Christmas time? Well, it was customary for people to bring the plants that survive the winter indoors to decorate the house. Plants like holly, ivy, mistletoe, yew, laurel, box and even rosemary adorned Victorian houses, especially the fireplace. It was common to see edible decorations on the Christmas tree for example, fruit, nuts and cookies, especially gingerbread baked in various shapes, such as hearts, stars, angels, bells and of course gingerbread men. Streamers, paper chains and tinsel were also used, though tinsel looked very different from that of today. They also used painted baubles to adorn the Christmas tree.
Choose the Right Christmas Tree
Ideally, you would choose a real christmas tree to create your vintage christmas decor, but many people prefer the convenience of artificial trees. There are some very realistic looking trees on the market. For example, here is a nice looking tree from Dino Direct:

210cm Christmas Tree with Cones
Bring the Outdoors Inside
See what you can find in your local area. Look for pine cones, holly and any other greenery that you can. These can be used to decorate the mantelpiece if you have one and pine cones would look beautiful on the Christmas tree. You could even spray them gold or silver.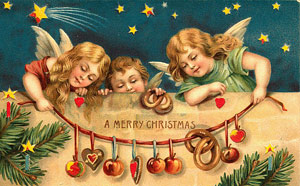 Make Edible Vintage Christmas Decorations
Copy the Victorians and make your own edibles christmas decorations. You can make cookies using cookie cutters and decorate them with white and red icing or you could make pomanders out of cloves and oranges.
Paper Chains
Paper chains are a fun and cheap way to create decorations with your kids. You can make paper chains using coloured or patterned paper or you could even make paper chains out of leftover Christmas wrapping. Here are some ideas for lovely vintage christmas paper
.
The materials you need to make paper chains are simple. All you need is paper and adhesive. I find that the glue stick is the best and least messy type of glue to use with children. You can also use double sided tape if that's what you have to hand. For instructions, click the link below:
Instructions For Making Paper Chains
Decorate Plain Baubles
Another fun past time is to decorate Christmas balls or baubles. You can find instructions on doing this at the link below:
Vintage Style Christmas Decorations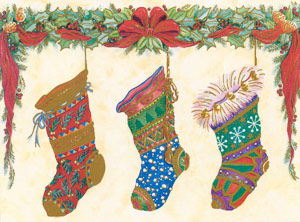 Vintage Christmas Stockings
There are lots of great vintage stylechristmas stockings available. You can find some victorian christmas stockings here: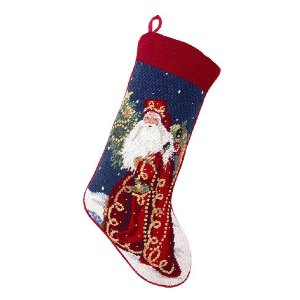 Victorian Christmas Stockings
Free Printable Christmas Cards
If you decide to download any of these free christmas printables, take a look at the downloading and printing tips.




---
Printable Greeting Cards
Miscellaneous Printables
Vintage Printables and Craft Ideas
Useful Info
---