Vintage Style Christmas Ornaments
Vintage style christmas ornaments to make for hanging on your own nostalgic vintage christmas trees.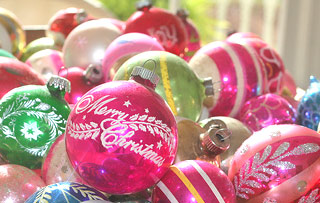 Image courtesy of Paige Knudsen
Decorate Plain Baubles
Here are some ideas on how to make christmas ornaments that will fit beautifully with all your vintage christmas decorations.
Materials
a paintbrush
glue ( You can use liquid adhesive, preferably one which dries clear) and glitter in pots
or glitter glue
or craft paints
a damp cloth
some string or tape to hang the bauble

You will also need somewhere to hang the bauble while it is drying.
Glitter glue is one of the simplest and least messy methods. However you need to choose the glue carefully. Your child may have some glitter glue pens, but these don't work well at all. It's hard to get a decent line and there isn't usually enough glitter in them. There are good brands available at craft shops. The absolutely best type for our vintage style christmas ornaments is Ranger Distress Stickles. These are perfect for creating a vintage look.
Ranger Distress Stickles
Craft paints are also great for painting the baubles. Gold and silver would be lovely options. DecoArt is a great brand to look for, as the colors are fantastic, especially if you are trying to creat an authentic looking vintage chritmas decor. The Americana range colors are beautiful:
DecoArt Craft Twinkles Glitter Paint
DecoArt Craft Paint
DecoArt Americana Acrylic Paints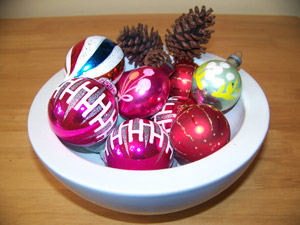 Decorating the Bauble
The simplest designs to do are those involving dots and spirals, the glue/paint seems to go on more smoothly. For straight lines, the tip at the other end of the brush works better. You need a fair amount of glue or paint to allow a sweep of movement. It may take a few goes to get the hang of it, so have your damp cloth handy so that you can wipe off anything you're not happy with.
Free Printable Christmas Cards
If you decide to download any of these free christmas printables, take a look at the downloading and printing tips.





Back from
Vintage Style Christmas Ornaments
to
Vintage Christmas Decor
---
Printable Greeting Cards
Miscellaneous Printables
Vintage Printables and Craft Ideas
Useful Info
---